CLARKSVILLE — Tucked into a corner of the Green Tree Mall is a t-shirt business started by Essence Adams, a 17-year-old Jeffersonville resident.
Adams opened Essence Tees and Apparel, or E's T's, last August to sell T-shirts, wristbands and other tie-dye items.
Although she had had a knack for painting and drawing since she was in elementary school, the art of tie-dyeing was new to Adams. The first time she did tie-dye was for one of her peers who was asking someone to make her a shirt.
"We have everything and that night I stayed up all night like I hadn't slept. I just remember my hands were all blue and all kinds of colors," she said. "The shirts were so bad but it was fun, that's why I liked it."
Adams stuck with her and started making shirts for several of her friends, until she became known as the tie-dye girl.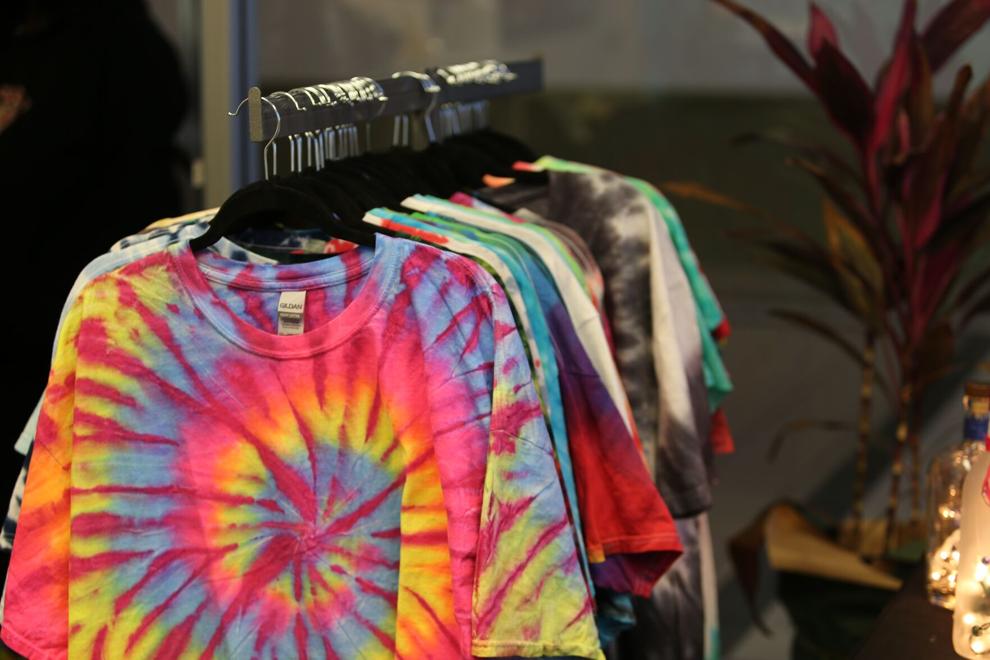 Everything should be lots of color, Adams said, which explains the rows of colorful t-shirts and hoodies on the store floor and the artwork lining the walls of the conference room out back. of the shop.
Before E's T's moved into a mall space last August, Adams participated in pop-up shops to sell his t-shirts at events, parks and the mall. These ephemeral sales allowed him to build up his inventory. Adams therefore often spends time channeling her creative energy into painting, unless she receives a custom order.
Although she spends a lot of time working on her paintings, Adams does not sell them to the public. One of the paintings hanging at the entrance to the store attracted quite a bit of attention, and several people tried to buy the canvas, according to Adams.
The painting was done during a session at BAYA, or Beautiful As You Are Corp., of which Adams has been a member for several years. The nonprofit aims to help girls learn empowerment and build self-esteem.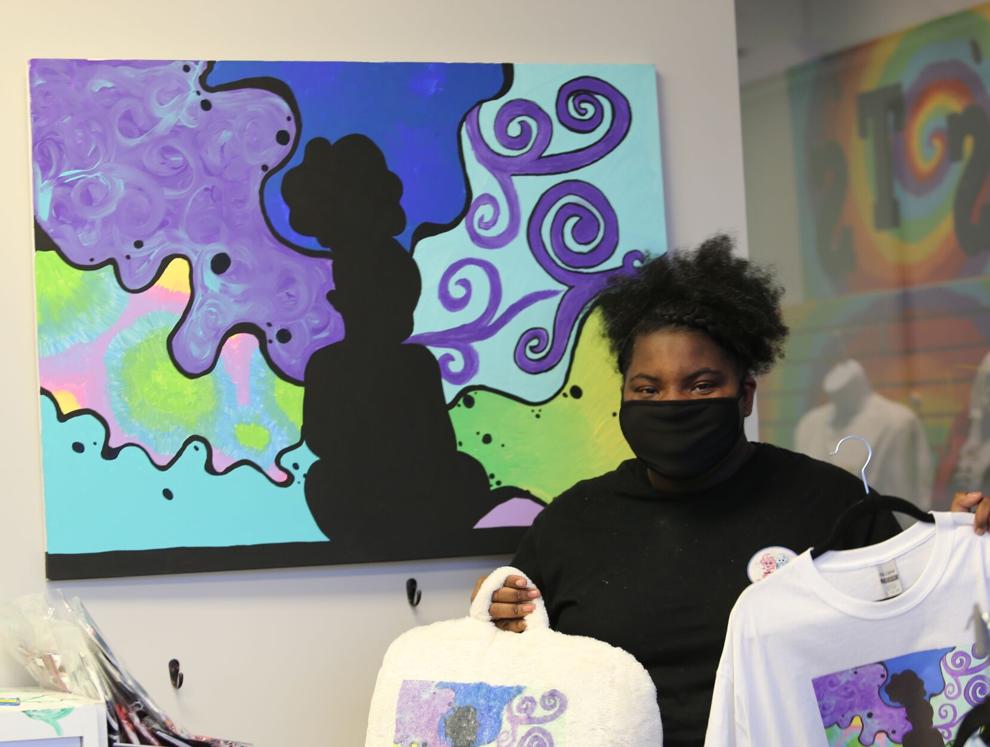 During the BAYA exercise where the painting was created, Adams created an image that depicts a silhouette of herself with her signature hair surrounded by different segments of color and pattern. Each segment represents the different gifts and talents of each person.
"I don't dress for anyone, and besides, I don't do my hair for anyone… You just look at me for my appearance, but nobody knows that I have so many gifts. I want people to know that, not think about what I look like," Adams said.
"That's what we need to focus on – our talents," she continued.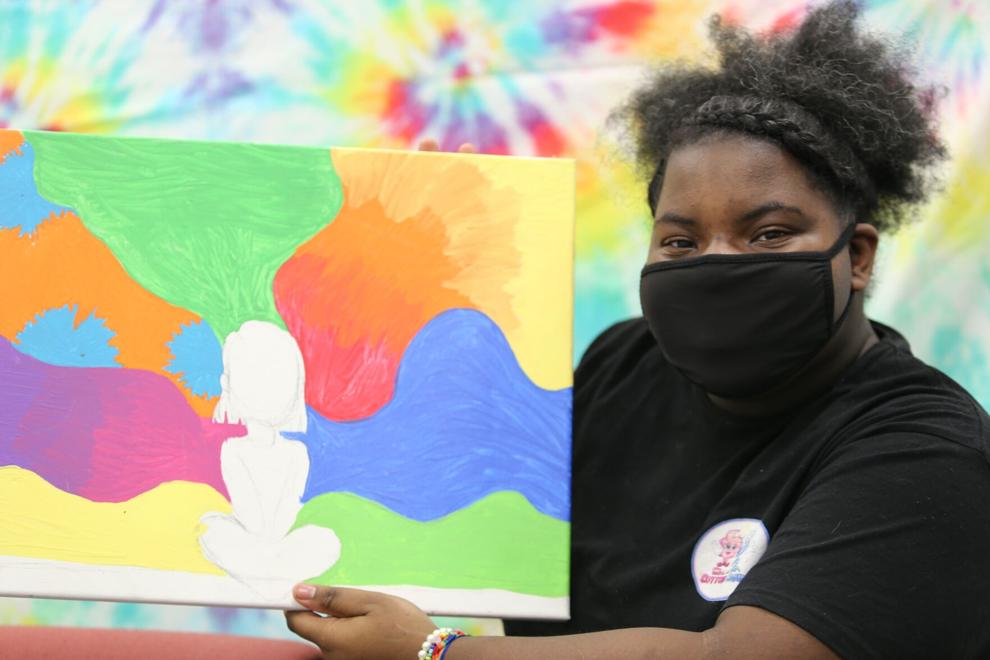 Although she didn't want to sell the original painting, even to BAYA founder Tish Frederick, she and her mother still wanted to contribute to the organization that had such an impact on Adams. Pillows and t-shirts are sold with the painting's image, and 100% of the proceeds go to BAYA, said Adams' mother, Dedra Adams.
Adams credits much of her ability to run the store to the work she has done for and at BAYA.
"BAYA basically helped me run my business, because I ran it but not with passion," she said. "It taught me a lot; it taught me to be nice.
"I was working myself to the end and now I know my limits. I am able to work comfortably so that everything is perfect for the person.
Managing the store also helped boost Adams' confidence after he was bullied extensively at school.
"It shocked me that people really liked my stuff because I was so used to people hating me," she said.
Adams noted that the person she made her first tie-dye shirt for was actually someone who bullied her.
"That's the main thing that gets to me: someone who hurt me ended up being the person who made me realize what I wanted to be when I grow up," she said.
After graduating from high school, Adams plans to go to Indiana University of the Southeast to study business and law.
While the store showed Adams that people like her work, she noticed that being black sometimes made it harder to sell items.
"I remember they weren't coming in. I'm like, 'What did I do?' I was confused," she said, "it's boring, but not everyone is going to support you. Not everyone is going to help you. You just have to breathe and keep going."
Since the store opened, it moved to a new location in November. The new space is larger and will house a nonprofit that Dedra started called Essence of Hope. The organization seeks to teach young entrepreneurs, aged 16 to 24, the skills needed to open their own debt-free business.
Dedra, having been able to help her daughter open a store and sell her work, was inspired and wanted to help other young adults. She is a certified facilitator who has worked in workforce development for 15 years, so she has the experience to teach many of the soft skills needed by business owners.
Classes will also bring in other business owners and agencies to teach young adults.
"We're really trying to train these kids," Adams said of her mother's initiative.
The new store has a conference room in the back where classes will be held for the organization. Dedra also has a kiosk in the mall that course participants can use to sell their wares. All services offered with Essence of Hope are free.
The first course was supposed to start at the beginning of January but there were not enough people registered so the start date was postponed.
Adams' store and creations are also used to support the community.
Adams made t-shirts for protesters during the Black Lives Matter movement in 2020. She also provided t-shirts to family members of Breonna Taylor, the Louisville woman killed by police in 2020, and Tyler Gerth, a Louisville resident killed in a protest. the same year.
Adams and Dedra also help the community by allowing some local artists (photographers, jewelers) to sell their wares in the store.
The store is located in retail space 346, next to the old Sears entrance, and is open from 4 p.m. to 8 p.m. Monday through Friday.