The New Jersey Devils won again tonight against the Columbus Blue Jackets and are now 4-1 since the Christmas break. The break has clearly done something for them as they are missing a few good pieces and their head coach until Thursday night, but offensively they're playing pretty well.
Good
The team got off to a quick start again, scoring a goal in the 51st second of the first period. Tomas Tatar showed beautiful hands in front. He looked great all night alongside Hughes and Bratt, scoring almost two goals, which is a big deal for the team who have lost so many goal scorers. Jack hughes and Jesper bratt only make everyone around them better and generate so many chances that it's insane. Bratt's contract is going to be really interesting in a few months.
Mackenzie Blackwood has been terrible lately, but leaving one tonight has been a nice surprise. How the rebound came off on goal was a mystery given he touched his chest, fell into his glove and threw it, but the error ultimately wasn't a big deal despite being close to the match.
Ryan Graves had a good game and while it would have been nice to see him bury one of his Class A scoring chances and five shots, he's not the most important point scorer. His block at the end of the game leading to Hughes' empty net was an important play.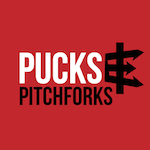 Want to hear your voice? Join the Pucks And Pitchforks team!
Write for us!
The bad
This team still has problems but it is clear to see the team playing better offensively since the Christmas holidays. It's the first comeback game with Lindy Ruff behind the bench. Coach Nasreddine has, in my opinion, done a poor job as a defensive coach but this team has performed better under him as an interim head coach and in his short stint here since Christmas he would probably be undefeated if Blackwood played better against Boston. Ruff is definitely in the hot seat and is possibly the only coach who has ever seen his place get hotter while not even with the squad.